(
For Pick Em standings -- week-by-week and YTD -- click here.
)
Last week gave Forty a 5-game lead over me and a 3-game one over Keller. This
might
put him out of reach, unless the bottom drops out. In the meantime, I'm gonna hit the ATM.
In regards to the Steelers last week, well, turnovers change games and- Hey! Did you hear that the Power picked up
Alvin Ray Jackson? Dude had almost as many interceptions last season with the Voodoo (14) by himself as the Power had as a whole team (17.) That's huge! Now we just need to re-sign PJ Berry and I'll feel a lot better about the season. So, in conclusion, it was a really rough game for Steelers fans last week.
Lock of the Week (Keller): Green Bay over Minnesota (Packers are my lock, but I'm not 100% sure they can cover a nine point spread and I'm thinking take the Under): 24-17
The Packers are at home, they're probably more than a little miffed about the fact that they got stomped by the Giants on Sunday night, and the Vikings pass defense is awful. It's possible that Aaron Rodgers goes off in this one, but he hasn't quite been the same since Greg Jennings got sidelined, Jordy Nelson has been hobbled, and defenses figured out that Randall Cobb is on the roster (and is good). Green Bay is really a warm weather team -- lots of timing routes, not much of a running game, defense built to protect a big lead -- which is weird, because they play on the Frozen Tundra. I checked the weather for Green Bay on Sunday and it's supposed to be in the 40s at kickoff with no precipitation and a very mild wind. That's good enough for me. I don't trust the Patriots in Miami in December. I don't care that they've won their last three games against cupcakes by a combined score of like 815-31, they're shaky on the road and the Dolphins have their number in December. Still gonna pick the Pats, of course, just not confident enough in them to trust them with my Lock.
Lock of the Week (Weidman): Green Bay over Minnesota 24-17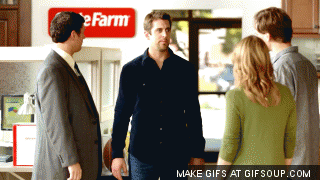 Lock of the Week (Forty): Houston over Tennessee 32-21 (Take Houston at 5.5 and the over of 47.)
I kicked myself for not picking Jacksonville last week, because they had played strong the past few weeks and were home against an MIA Tennessee team. I let the records get to me. Here they shouldn't let me down as the Texans are 5-0 at home and the Titans are just 2-3 on the road. The Texans could be going into coasting mode, but they've just got too much talent to drop one at home against a sub-.500 club. What Houston has shown the past few weeks is their ability to turn it on when they need to and win games. So, this could be tighter than expected, but the Texans should pull it out. I almost went with Baltimore over Pittsburgh for the lock, but I didn't want Weidman and Keller to drive to Ohio and kick my rear.
Meet the "Experts":
Brad "QBERT" Keller
is the inventor and sole proprietor of the QBERT (Quantitative BERT jones is awesome) system for rating quarterbacks. Using this innovative approach and working tirelessly part time breaking down film and finding angles inside the angles, he has mastered the art of picking and handicapping NFL games. With an expanded playing field this season, he's anxious to defend his title against a formidable group of experts that... hey, you know what? He can beat these two jokers, right? No problem. Because he has a
foolproof system
.
"Arena" Weidman
's prime qualification for this contest is that he's spent more than a decade watching Steelers games with Keller while drinking. Because of this, most of his picks might seem like they were done while drunk, but that's just a facet of how he gets into "recall mode." A devoted follower of the Arena Football League, Weidman's NFL world view is colored through this lens. Because of this, he possesses strong opinions on why more people should go to Power games and how the the Cardinals should really be using the Rattlers as a farm team. Mainly, he just has trouble with the field being way too big.
Leonard "Forty" Hayhurst
earned his nickname for his ability to grow the facial hair of a 40-year-old man at the age of 16, not his ability to pound 40s of King Cobra, but there's that too. He owns the largest collection of Drew Bledsoe memorabilia in the world (five items would be the largest, right?). He feels for Cleveland Browns fans because when he started rooting for a 2-14 club in the New England Patriots, they eventually won three Super Bowls. Then Steelers fans brag about how they have six Super Bowl wins, to which Leonard says they would have had eight if the Patriots hadn't beaten them twice in the AFC Championship game. They then mumble something about Franco Harris and walk away.